Leading Motor Vehicle Exporters in Qatar
If you're concerned that your car will be left behind while you and your family are moving to a new place, you can rest easy knowing that you can rely on Move Leaders to provide you with premium and high-quality services for vehicle shipping in Qatar.
We are a reputable motor vehicle exporter in Qatar with a team of highly skilled professionals who provide end-to-end services. Because they have years of experience, they can further guarantee that your car will be shipped without incident. We are a seasoned and established business, therefore we are aware of the various needs of our clients. Thus, we provide a suitable service that enables clients to have faith in us.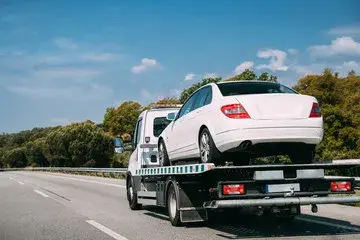 We are well known as the Best Car Exporters in Qatar
We Make Things Easier For You
Move Leaders has a reputation for being a top-notch Car Exporters in Qatar. We are authorised, covered by insurance, and offer the best service for shipping cars directly from Qatar.
We have been doing what we do best for almost a decade, and we have happy clients all around the world. We take care to never betray the trust that people have in us. You won't need to look elsewhere after trying us. Get a quote to ship any vehicle by getting in touch with us.
How We Ship Your Vehicle?
For anyone, a car is the most practical form of transportation because it makes getting around easier for daily duties. Your usual schedules are slowed down by unnecessary obstacles brought on by not having a vehicle at your disposal. Being one of the best car exporters in Qatar, Move Leaders will relocate your car and other belongings for a reasonable price and using a practical method.
Some of the methods that we use to safely bring your vehicle are:
Move Leaders help in exporting vehicles conveniently to anywhere in the world from Qatar. Notable among the car exporters in Qatar, Move Leader ensures swift delivery without compromising in any area of service. Since vehicles are to be handled with extreme caution to avoid damages like dents on the surface, proper cautionary methods in packing have to be taken. All the vehicles shipped by us are handled with extreme care ensuring high level of protection. Our logistics are ready to export any type of cars and motorbikes to your desired location. Before shipping we take care of all the legal and export documentation procedures. Popular amidst all the motor vehicle exporters in Qatar, we assure you that all the process will be carried out seamlessly without any hindrance. All our team members are extremely knowledgeable and professional in their area of work. Each one them is passionate in handling all types of vehicles. Being an export specialist we will also guide you through the procedures which have to done after the vehicle is transported to the location. A to Z service process of export is done by us. Move Leaders the leading among all motor vehicle exporters in Qatar assure you that your vehicle will be in safe hands. Reach to us if you are searching for the best car exporters in Qatar. We would be happy to assist you.